Sets of flexible joints for the forklift industry
Sets of flexible joints for the forklift industry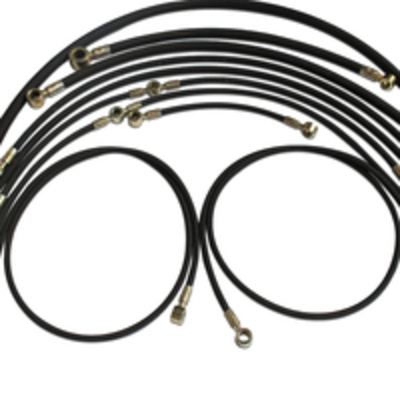 Balkankar Ruen JSC manufactures kits for flexible joints and hydraulic brake system of trucks. It has stands of the Austrian company UNIFLEX for testing of finished flexible compounds that provide the necessary quality control. Balkancar Ruen JSC produces not only kits for flexible joints, which are for OEM but also flexible joints kits for spare parts. We have new modern machines for fittings crimping produced by the Finnish company FINPOWER, and multi-spindled machines and CNC machines that respond to the European standards DIN and EN.
The advantages of the produced in Balkancar Ruen JSC kits for flexible joints is guaranteed high quality improved over the years.
Balkankar Ruen JSC was founded in 1966 as a factory for spare parts for electric and electric forklifts affiliate plant of Balkankar September 6th Sofia. From the foundation it produces flexible joints for the assembly plants Balkankar – Dunav, Lom and Balkankar September 6th, Sofia.
In 1968 the production of kits for flexible joints and hydraulic braking systems began , initially it covered the following products:
- Electric forklift trucks, series EB for Balkankar – 6th - September - Sofia
- Platform trucks ,series EP for Balkankar - Dunav– Lom
- Electric dumps , series ES for Balkankar – Dunav- Lom
With the development of the production of electric forklift trucks in Bulgaria and the emergence of new assembly plants in Plovdiv and Pleven the range of manufactured kits for flexible joints widened. Gradually, it covered the following products:
- Electric trucks ,series EH of Balkancar - Vit Pleven
- Electric forklifts, series EB for Balkankar – Pleven Pleven
- Forklifts trucks series BV and DV Balkancar - Record Plovdiv.
With the growth of the production program the technological and machinery park are significantly changed to suit the conditions of mass production. In 1982 the company released a new workshop with multi-spindelled lathe machines with kinematic program management, production of the German company DREMA, which are characterized by high productivity. It also Introduced a line for capillary soldering of fittings of the German company "Hans Beimler", the technology is unique for its time and has a high reliability of the process, high performance, high quality products.
In the 80s of the 20th century Balkankar Ruen JSC is the sole supplier of flexible joints of Balkankar, ensuring the production of flexible joints for nearly 65,000 forklift trucks a year